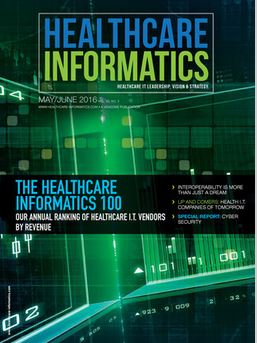 Every year Healthcare Informatics ranks the 100 vendors with the highest revenues derived from healthcare IT products and services earned in the U.S. based on revenue information from the previous year. All companies meeting this criteria are eligible to participate by submitting their data here.
The Healthcare Informatics 100 listing provides readers with a unique information resource and financial overview of vendors active in the healthcare IT market. The Healthcare Informatics 100 is published in the May 2017 issue.
"We believe that the Healthcare Informatics 100 offers a unique service to our industry, and is uniquely referenced by professionals throughout the field every year," says Mark Hagland, Editor-in-Chief of Healthcare Informatics.
---
Click here to view the Healthcare Informatics 100 annual rankings list.
Click here to view the 2016 Healthcare Informatics 100 digital issue.